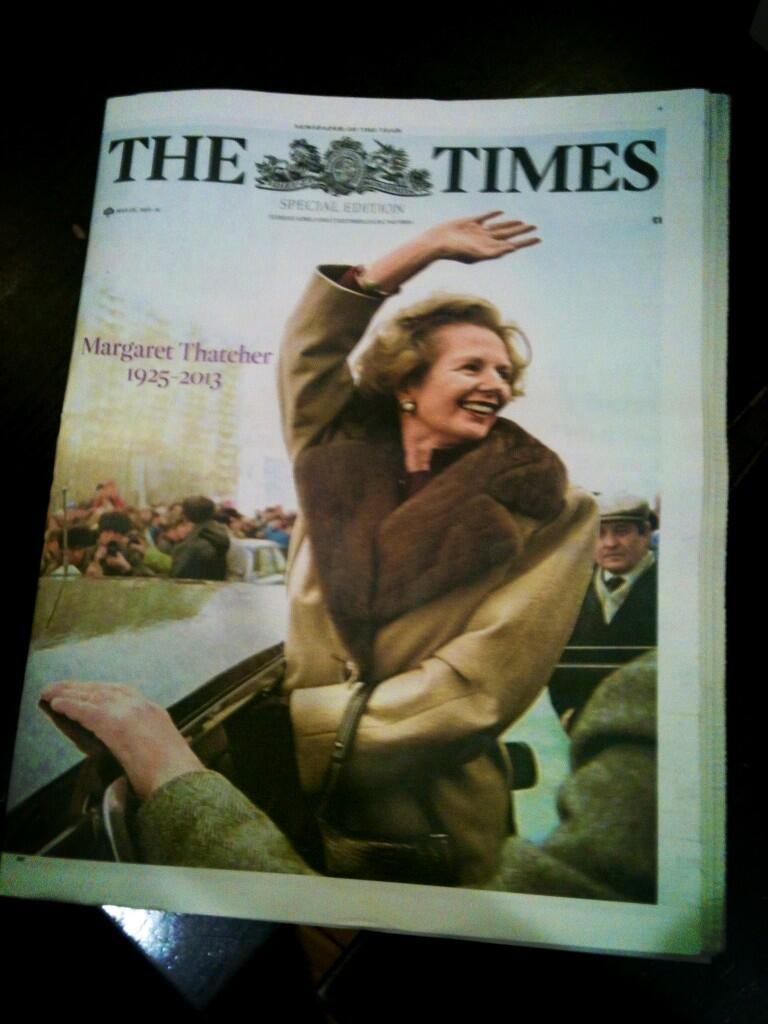 Despite waking up at 4am this morning for a 6.50 flight to Dublin, then a 4.50pm flight home, I consider myself pretty lucky today*.
When I passed through security controls at Heathrow today, I headed straight for WH Smith to buy today's Times. It was a 'special edition' with several pages and a separate supplement on Margaret Thatcher. The paper was totally engrossing. I had a couple of other publications and white papers to read on the fifty minute plane journey, but I couldn't put The Times down.
The articles on Thatcher were superb, balanced, and detailed. So many different journalists, politicians and colourful characters contributed that it was superior than any biography of Thatcher could be.
I was just a little too young to remember Thatcher in any great detail, and I was as completely uninterested in politics in my teenage years. By the time I graduated from University, John Major was in power, and through scandal after scandal, politics was doing its utmost to deter anyone except William Hague from becoming interested in the field.
The Times correctly pointed out that it's difficult for anyone in today's world to imagine the City in the pre-Thatcher era, or how the World thought of the UK defences as so inferior as to try to reclaim the Falklands.
In Digital Media terms (because you probably didn't want to read about my political opinions), I can't imagine The Times electronic edition today being as effective as the paper edition. From the wrap around cover (single photograph) to the layout of the insides of the paper and the almanac. I almost feel that the paper version should be stored somewhere safe for a later date – how can a digital edition compete with this?
* Actually I consider myself lucky every day, but that's for another post…